COVID-19 We would like to share with you the additional steps our office is taking during the Coronavirus outbreak: Our Patients: • We are screening all patients using the ADA recommended questionnaire that tracks symptoms and travel history prior to their appointment as well as the day of their appointment. • We are using HIPAA approved online forms to allow patients to fill out all forms online prior to coming into the office. • Our patients have easy access and are required to use hand-sanitizer that is provided at several spots throughout the office. • Patients are required to wear a mask while in office. If you do not have one, we will provide one for $2.00. • All patients are checked for fever with our infrared/touchless thermometer. • Our waiting room is disinfected every 30 minutes. • All magazines and cloth chairs have been removed from the office. We now have 3 metal folding chairs that are spaced one on a wall around the waiting room to ensure social distancing. • To reduce the oral microbial load, our patients are rinsing with a pre-procedural antiseptic oral solution prior to treatment and we are only hand scaling during cleanings. • Each room is now equipped with a Defender Aerosol Evacuator. This machine uses close contact suction to help reduce aerosols. Our Team: • Daily health assessment and temperature check of team members at the beginning of the day. • Full personal protective equipment (PPE) for all clinical staff members. • Front office staff in masks behind glass enclosed front desk.
About our Bethesda Family & Cosmetic Dentistry and Prosthodontics & Implant Dentistry Practice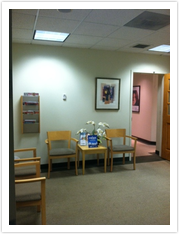 As your Bethesda Dentists, we are committed to providing you with the best service in dental care. There's nothing better than hearing a patient say, "You are the best dentist!"
We bring together experienced specialists under one roof to provide cosmetic and general family dentisty along with prosthodontics and implant dentistry. This enhances the continuity of care for our patients - eases the logistics of procedures for patients and gives our dentists the opportunity to coordinate the highest quality of care.

Delivering Excellent Results
We focus on achieving excellent results for our patients. Bethesda dentists, Dr. Richard Hunsinger, and Dr. John Tran understand the importance of how your smile affects how you look and feel. Our doctors and our entire team take pride in delivering excellent care at every step of your treatment.

Commitment to Service
Our goal is to remain current with industry advancements that will help us provide the best service to our patients. With our patients in mind, we maintain a warm and relaxed atmosphere in our Bethesda dental office. Our knowledgeable, friendly staff can answer your questions and help you feel at ease during your visit.

Patient Education
To earn and maintain a high level of trust between patient and staff, we discuss treatment options together to ensure a clear understanding of options and procedures. Educating patients on available options helps our dentists develop the best customized treatment plan to fit individual needs.

Staying Current
When choosing a dentist, it is important to choose a team that is experienced and stays current with industry procedures and technology. We equip our Bethesda dental office with the most advanced dental technology to maximize comfort and convenience for our patients. As the dental industry evolves, Dr. Hunsinger and Dr. Tran remain excited about learning - and teaching. Our staff participates in local and national lectures, conferences and study clubs to stay on top of industry developments. This translates into enhanced patient care - and terrific reviews about our service from our patients!
.